Why not Try some of these fun-tastic date night ideas and make those moments count?!
Umm, got that Friday feelin', but you're like, "Ugh! What's the plan tonight?" How about a super romantic date night? 🥰 You know, the kind that makes you remember why you adored your partner in the first place!
If you're tired of the same old Netflix and chill, I've got you covered with a list of the 36 cutest, most off-the-hook date night ideas you've never even dreamt of!
Ready to spice up your life? Well, keep readin' because #dategoals are about to be achieved!
Get ready for a thrill ride with these date night ideas!
1. Epic Picnic Under the Stars
Pack a basket full of your bae's fav snacks, drinks, and cozy blankets. Head out to a sweet, secluded spot and spend the night gazing at the stars together. Don't forget the portable speaker for those adorable slow dance moments under the night sky. Swoon
2. Old School Arcade Throwdown
Step back in time and hit up a local arcade bar or vintage gaming spot. Challenge your boo to a lil' friendly competition with classic games like Pac-Man or Dance Dance Revolution. Loser buys the winner a round of their go-to drink. Game on!
3. DIY Paint & Sip Night
Who says you gotta leave home for a killer date night? Get your hands dirty with a paint & sip sesh right in your living room. Grab some canvases, brushes, paint, and your fave bottle of vino, and see who can create the most Insta-worthy masterpiece.
4. Spontaneous Photo Shoot Day
Look extra cute in your partner's eyes by turning your day into an impromptu photo sesh. Pick a few scenic spots around town and hit the streets, snapping candid shots of each other along the way. You'll have tons of IG-worthy pics and memories to share for years to come.
5. Cooking Class Extravaganza
Unleash your inner Gordon Ramsay by taking a hands-on cooking class together. Whether you're whipping up some insta-worthy sushi or mastering the art of homemade pasta, getting saucy in the kitchen is guaranteed to heat things up between you two.
6. Sunset Hike & Campfire Chill
Take your date to new heights with a sunset hike to an amazing lookout spot. Share a romantic moment while watching the sun disappear, and then head back down to snuggle up by a roaring campfire. Roast some marshmallows for a sweet end to an unforgettable date.
7. Love Letter Exchange on a Beach (or Park!)
Write each other sweet love letters, then secretly exchange them on a sandy beach or your local park during a sunset picnic. It's not only thoughtful and romantic but will also make your heart flutter! Also, let's be honest, who doesn't love getting love letters, amirite?!
8. Funky Theme Party for Two
Why wait for a special event to dress up and have a blast? Plan a themed party for just the two of you. Go all out with themed costumes, decorations, and even a delish menu of drinks and snacks based on your fave movie or TV show for a memorable date night.
9. Outdoor Movie Night
Transform your backyard or balcony into a cute outdoor movie theater. Set up a projector, comfy seating, and all the fixings for an epic popcorn bar. Add fairy lights for that extra magical touch, and enjoy a cozy movie night snuggled up under the stars.
10. Go-Kart Racing & Pizza Party
Unleash your need for speed with a thrilling date at a go-kart track! Put the pedal to the metal in a race to victory, and then celebrate (or soothe your bruised ego) at your fave pizza joint. A slice of the good life, indeed.
11. At-Home Spa Night
Bring the zen to your date night with a DIY spa experience. Light some candles, put on a chill playlist, and give each other pampering massages and facials. When you're all relaxed, slip into your softest robes and share a bottle of bubbly like the classy couple you are.
12. Couples' Massage Night
Transform your living room into a relaxing spa by lighting some scented candles and playing soft tunes. Pamper each other by giving a soothing massage. Trust me, it's the perfect way to unwind and connect after a busy week.
13. Follow the Notes Adventure
Got a special memory you want to revisit? Plan a treasure hunt-style date night featuring handwritten notes and clues. You'll create new memories along the journey while reminiscing about old ones. How romantic is that?
14. Dance the Night Away
No need to hit the club for a night of dancing. Groove to your favorite tunes right in your living room! Create a playlist featuring your fave bops or each other's guilty pleasures, then dance til you drop!
15. Midnight Beach Walk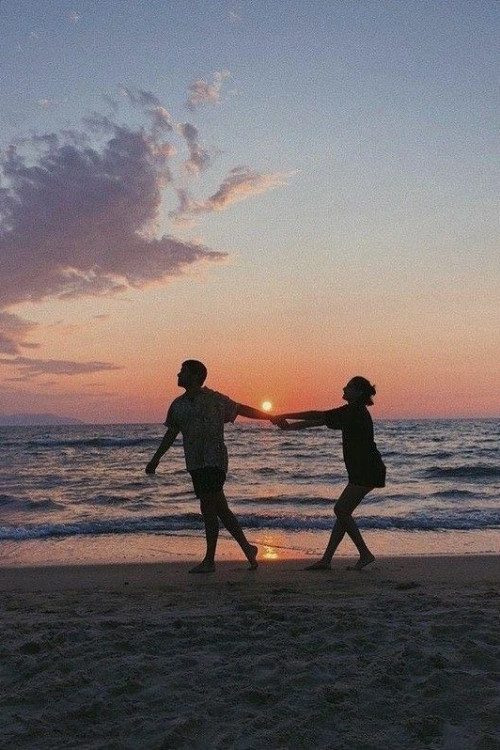 The beach has a whole new vibe when the sun goes down. Stroll the shoreline hand in hand with your significant other as the waves gently crash by your feet. The cool breeze and calming ambience will make your hearts swoon.
16. DIY Cocktail Night
Shake things up and play mixologist for the night! Experiment with creating your own signature cocktails using all sorts of ingredients. Don't forget to taste test and sip your way through the night together! 🍹
17. Games + Wine Night
Kick off your shoes, grab a bottle of your fave wine, and let the games begin! Whether it's a classic board game or trying out some spicy new card games, this date night combo is a total winner. You'll be laughing and bonding in no time. Trust me, it's a grape way to spend some quality time together!
18. Drive-In Movie Date
Get your nostalgia on with a cozy drive-in movie date night. Find your nearby drive-in, pick a flick, load up on snacks, and cuddle up in the car as you watch that romantic comedy or intense action film. Not only does it bring old-school vibes, but it's also a great way to have some uninterrupted alone time together.
19. Serenade Each Other
Why not end your date on a high note? Belt out your fave love songs or even write one together for an ultra-romantic and heartfelt memory. No musical skills required, just let your love do the talking!
20. Try a NEW Eatery
Ditch your usual go-to spots, and hunt down new foodie adventures together. Research joints that offer unique food experiences, like dining in the dark or eating in an IG-worthy treehouse. Snap photos for foodie clout & memories! 🍽️
21. DIY Wine Tasting
Why go out for a stuffy wine tasting when you can have your very own at home? Grab a few of your favorite bottles, some delish snacks, and let the fun begin. Become your own sommelier and bond over your love for wine.
22. Silent Disco Dance Party
Turn up the music volume but keep it personal! Throw a private silent disco for two and groove like nobody's watching. Whip out those dance moves and share a night of laughter and fun. Oh, it'll be a hit!
23. Lego Date
Channel your inner child and get ready to build the night away! Work together to create a LEGO masterpiece and fill the room with laughter. Capture the memory with a picture and cherish your teamwork forever. Isn't it awesome?
And hey? Why worry about keeping them safe when you have these best LEGO storage ideas?
24. Mini Golf
Putt your love to the test with a game of mini golf! Face off in a friendly match and show off your skills. Win or lose, it'll be a hole in one. Tee-rific!
25. Aquarium Date
Dive into an undersea adventure with your bae. Explore the magical world of sea creatures and swim through your love. Make punny jokes about finding your "sole" mate, it's fin-tastic!
26. DIY Escape Room
Design your own escape room experience at home! Put your creativity and problem-solving skills together and create a surprise escape room setup for each other. Solving puzzles and cracking codes has never been this much fun, and it's the perfect excuse to snuggle up together when you "escape."
27. Recreate Your First Date
Take a trip down memory lane and recreate your first date together. Head to that same spot, order the same dishes, and chat about what you remember from that first spark. Believe me, it's the cutest way to reminisce.
28. Themed Dinner Night
Pick a country that inspires you and throw a themed dinner night! Dress up, cook up some authentic grub, and even learn a thing or two about your chosen culture. Cheers to a night of worldly love!
29. Ultimate Dessert Date
Got a sweet tooth? Head on a dessert crawl through your city, trying out different sweet treats at each spot. Compare notes, chat about life, and indulge in some delicious delights together. Literally sweeten up your date night!
30. Plan a Scavenger Hunt
Plan a fun scavenger hunt around town, leaving clever clues and surprises at each stop. Nothing's better than a little mystery and adventure mixed with romance.
31. Go to a Concert or Music Festival
Dance the night away with your bae at a concert or music festival! Whether it's your favorite band or discovering new artists together, it's a great way to bond over your love for music.
32. Attend a Comedy Show
Get ready for some major laughs with a comedy show date night! Find your favorite comedian or try out a new one, but just make sure you're prepared for some hilarious jokes and chuckles.
33. Go to an Amusement Park
Embrace your inner child and spend the day at an amusement park together. From roller coasters to carnival games, there's endless fun to be had and memories to be made.
34. Karaoke Night
Get ready for some serious laughs and cringeworthy moments with a karaoke night. Whether it's belting out love songs or rapping your heart out, this date night idea is sure to be a hit. Bonus points if you create your own karaoke duet!
35. Road Trip to a Nearby Town
Take a break from the usual and hit the road for a mini adventure! Explore a nearby town, try out some new restaurants, and take in the sights together. You never know what hidden gems you might find!
36. Flashy Food Truck Hoppin'
Get your grub on with a twist! Explore the culinary wonders of the city by embarking on a food truck hopping adventure. Ignite your taste buds and catch killer Insta stories while chompin' on droolworthy delish dishes, and sharing these bomb bites with your snack-tasting partner in crime.
Final thoughts on cute date night ideas
And there you have it, beautiful people! We've finally made it – 36 cutest-ever date night ideas for the most fun of your life. Told ya, the hype was real.
Now, you're all set to rekindle that lovey dovey feeling and set off on an unforgettable journey, hand-in-hand with your boo – we're talking Instagram worthy memories, folks.
Whether you're a thrill-seeker or a cozy-couch-snuggler, these date ideas have something for every kind of couple. Remember, the best memories are made when you step out of your comfort zone and get a lil' adventurous together.
Spread the love, amigos! And if you've got more rad date ideas, let us know in the comments below. Happy dating! 💖
related articles on date night ideas
What date night idea are you up for tonight?!